Who Uses Challenge Coins?
Traditionally, challenge coins have been most popular among members of the U.S. military. Elite units such as Special Operations, Navy SEALs, and others take pride in designing their own unique limited-edition challenge coins. Other organizations with a military-style command structure, such as police and fire departments, have also adopted them, particularly specialized units such as SWAT teams and drug task forces. That's why we bring you the best custom made challenge coins that would suit your squad.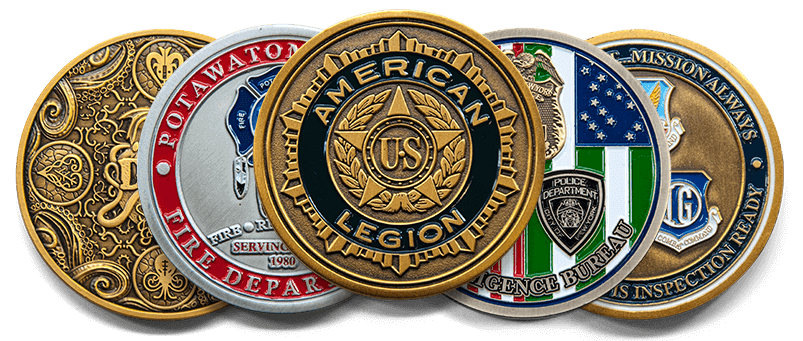 Businesses have even adopted challenge coins as an alternative to custom lapel pins. The popularity of the coins has led to the hobby of collecting and trading them. At MilitaryCoinsUSA.com, we can provide virtually any type of challenge coins you desire. If you have a design or logo you want to use, we can work with that and provide you with the best custom military challenge coins. If you don't, our talented graphic artists will work with you to design a challenge coin that's perfect for your group.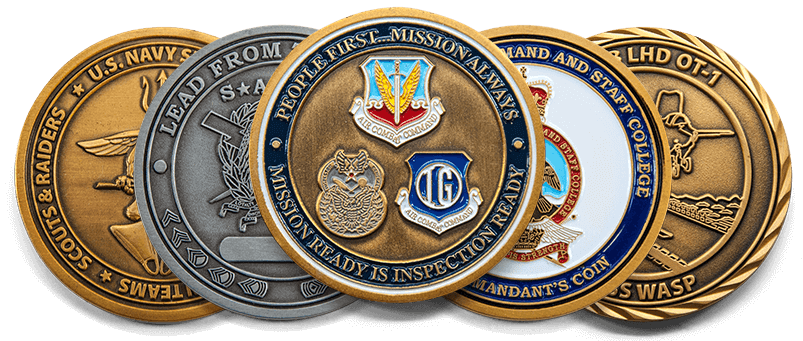 At MilitaryCoinsUSA.com, we specialize in challenge coins and custom military coins for military units. However, we can create the finest custom challenge coins you'll find anywhere for any organization or group. Just fill out our free quote form, or call us toll free at 1-877-670-2646 or email us at [email protected] and we'll get started designing your custom challenge coins today. Get your hands on the best military challenge coins now.
BUY CUSTOM CHALLENGE COINS & REPRESENT YOUR SQUAD WITH PRIDE
We assure you to provide you with finest quality challenge coins no matter which squad you want to represent. We take extreme pride in creating the best custom challenge coins for our heroes serving the nation.
Your vision will be carefully incorporated into the design by our expert challenge coin manufacturers. That's not all, we also offer some great package options with fancy velvet case option to convenient PVC coin pouch.
We at MilitaryCoinsUSA.com believe in perfection and that's why our expert team of graphic designers give their best to offer you with the best design. Also, we offer unlimited number of revisions so that you get your desired custom military coins.