Everything You Need To Know When Designing Coins
Feel free to send us art. We'll take care of the hard stuff.
At militaryCoinsUSA.com, we have a full team of exclusive coin graphic designers with years of experience. Not only will we design your custom coins to your exact specifications, but we'll do an unlimited amount of revisions to ensure you're 100% satisfied with the design before beginning production. Challenge coins offer a lot of real estate for logos, insignias, plenty of text and a ton of color options as well. If you prefer, just let us know what you would like on your custom challenge coin when filling out our free quote form. If you have clipart, company logos or anything else you would like to send to us for designing purposes, send them our way! We currently accept the following file types: jpg, gif, png, bmp, tiff, doc, docx, ppt, pptx, pdf, psd, ai, and eps. Use our free quote form to send us a message, or contact us directly at [email protected].
Step 1: Design
Choose Shape
We can make your coins virtually any shape you want, and we don't charge extra for custom shapes. Expand your idea, and create a coin design that's truly yours!

Choose Metal
We offer a range of metal colors and styles, including gold, silver, brass, copper or black nickel, with both antique and polished styles in any color!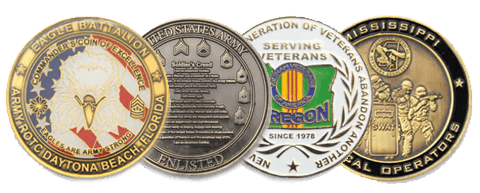 Choose Edge
We offer a selection of optional custom edge styles for you to choose from. Select wave cut, rope cut, or cross cut edges. We even offer engraved edge text!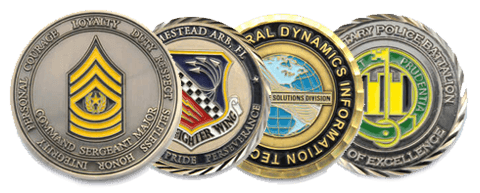 Choose Size
Select a coin size that's right for your design. Our artists can help you create coins ranging from small and simple to big and elaborate. The choice is yours!

Choose Quantity
Just tell us how many you want. From our minimum quantity of 50, up to however many you need, we can handle it. And on orders of 300 or more, there's no mold fee!

Step 2: Proof
Send Artwork
Our artists work on PCs, and we accept art in just about any format. We do prefer vectored art, but anything that gives us an idea of your design is helpful. Logos, napkin sketches, you name it, we can use it. You can even send files to us through our Free Quote Form.
Choose Metal
Once we get your art, we'll create and send you a free digital proof of your design. We don't charge for artwork or revisions, so you can make changes until it looks exactly the way you want.

Step 3: Finalize
Approve Design
After you approve the digital proof, we will send you an order confirmation email. This will contain all the details about your order, including coin sizes, colors, options, text, art and quantity. We will begin production only after you return this confirmation email with your approval.
Receive Coins
Once approved, your coins will go into production and ship out in about 2 weeks. We'll hand-inspect each coin and package it individually before we send it to you, so you can rest assured you will be able to carry or display your custom challenge coins with pride.