What's The Difference? Epoxy Vs. Enamel
Jesse Daugherty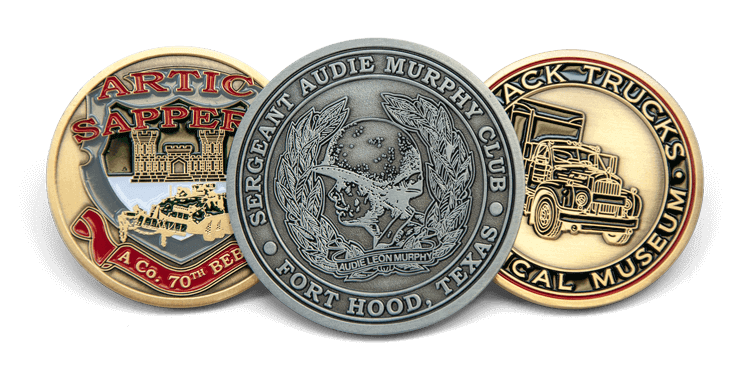 Custom coins are an ideal tool for marketing and promotion. They are also great for everything from employee recognition to celebrating essential dates and milestones. When it comes to designing custom challenge coins, there are few things you should know. Custom coins can be created in various styles, and being aware of the different elements it takes to produce a coin will help in your design. Today we take a closer look at a few options that will take your custom coin to the next level. Below you will find a look at the difference between epoxy coatings and enamel coins. This insight will be sure to help you when designing your custom coins. Get all of the details below and get started creating a stunning custom challenge coin.
What is an enamel custom challenge coin? There are two types; there are hard enamel and soft enamel challenge coins. The difference is enormous, but probably not what you think. "Soft enamel" is the meaning of the color fill process when creating a custom challenge coin. Recessed areas of the coin will be filled with liquid enamel, surrounded by raised metal as a line to contain the enamel. The coins are then baked and polished before being packaged and delivered. You can feel the layers of soft enamel. Hard enamel, on the other hand, is a multi-step enamel process. This is often used to craft jewelry, vases, and high-end decorative designs. Hard enamel is also called cloisonné. Hard enamel features a smooth surface and colorful images on the same level with the metal. This results in a glossy, high-quality finish. Hand enamel coins are made from great materials and cost a little more. The enamel color will be added over several times to match the raised metal line.
Epoxy is widely used in industrial applications, including metal coatings. Epoxy is used to make products with more vibrant colors, adding unmatched durability. Epoxy is a protective option for your challenge coins. This provides a layer of residence that is used on one or both sides of custom challenge coins. Epoxy is an extra feature added at the end of the manufacturing process. This unique addition adds a glossy look and fishing, offering protection to the paint. Adding epoxy will also enhance the 3D appearance.
There is a big difference between epoxy and enamel in terms of custom challenge coins. The most significant difference is that enamel is used as the color for any custom coin, while epoxy adds a protection level to your coin. You can, however, add both to any coin design. Are you looking for a colorful custom coin? Choose a soft enamel design. Are you looking for a soft enamel coin with a protective element? Then add an epoxy coating to your design. While two vastly different components, each can be used for a stunning result.
Here at MilitiaryCoinsUSA.com, we know custom challenge coins. We have over fifteen years of experience creating and producing top-quality coins of all sorts. We know what it takes to create great-looking coins. We have created coins for every branch of the U.S. Armed Forces, and our coins are the finest quality coins you can buy. If you want to create a new coin design or recreate an existing one, we've got you covered! Ordering custom coins has never been easier. Get a free quote on your custom challenge coins or email us with any questions. Let us show you how easy ordering custom coins can be!