Use Custom Challenge Coins As Merchandise
Jesse Daugherty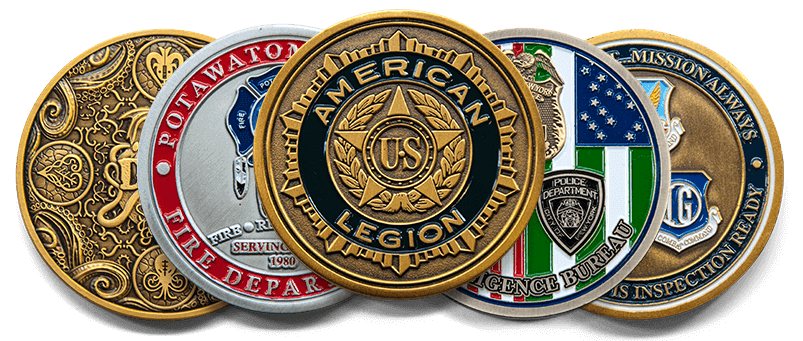 Custom coins are used for several various reasons. From souvenirs to commemorating special events, custom challenge coins are produced for a wide range of uses. While they are rooted in military tradition, custom challenge coins have expanded far outside the ranks. These days custom coins are being used by businesses, brands, and organizations. One area where custom coins shine is when used as merchandise. A high-quality custom coin is sure to stand out and add nicely to your inventory, offering people a chance to own a unique object.
Custom challenge coins are custom coins that feature symbols, text, and elements that recognize special events, accomplishments, achievements, and more. They are generally presented in the military for promotions, acts of courage, and other special milestones. These days custom challenge coins are seen with an array of different forms. But that's the best part. Creating a custom challenge coin is fun and easy, and it serves as a reflection of the designer.
There are many ways that you can make your custom coins stand out. This is especially important when planning custom coins for your merch table. While most coins are round, you can design a custom coin in virtually any shape. Round coins are the most popular, but polygons, squares, and dog tag shapes are excellent options. However, you are not limited! Custom coins can be crafted in any shape you can imagine!
Your choice of metal style will also add a unique effect and draw attention to your coin. With a bevy of metal styles to choose from, such as gold and silver, brass, copper, and others, the options are nearly endless. Custom coins can also be crafted with either polished or antiqued finishes for a dramatic effect. If that wasn't enough, you can be bold and combine styles for a duo-tone look.
There are several other options that will take your coin to the next level as well. Epoxy coatings will protect your coin against scratches and dings, while diamond-cut edges add another layer of detail. Custom coins can even be turned into keychains and bottle openers, which will add even more merch options to your table.
Custom challenge coins can be designed with up to five colors at no extra cost, adding a stunning look that will catch the eyes. Don't forget that custom coins can be turned into medals, which lets recipients wear their coins with pride. Other options such as sequential numbering and engraved text will add further allure to your coin's look and your selection of merchandise.
No matter what kind of custom challenge coin you have in mind, we can bring it to life! We specialize in offering the best custom-made challenge coins at the lowest price. We have the experience and the know-how to produce great custom coins, and we've had the honor of making coins for all branches of the U.S. Military.
No matter if you are looking for coins for a unit, squad, battalion, or your merch table, we've got you covered. We also aim to make ordering custom challenge coins easy and effortless. Are you ready to get started with your order? Get a free quote or email us. We would be honored to create custom challenge coins that you will be proud of!