The Meaning of Being Presented With A Challenge Coin
Jesse Daugherty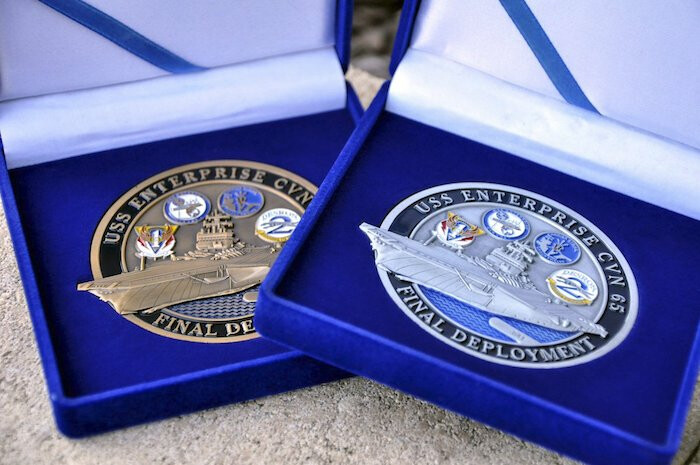 Challenge coins are part of military life. People with family in the military or a first responder most likely have a collection of challenge coins. What is a challenge coin? They are coins given for many reasons, including merit, getting a promotion, or meeting dignitary. They are even given out for extraordinary achievements and accomplishments throughout one's career. Challenge coins are a bit mysterious. They are beautiful mementos and serve as a reminder to those that receive them. However, what does it mean to be given a challenge coin?
Some will say that the only way to get a challenge coin is by earning it. This is true in many instances, though they are handed out for several reasons. Being given with a challenge coin is a gratifying experience that creates a unique bond with those who have received the same coin. Earning a challenge coin might not be easy, but here are a few common ways to do so. Being a member of the military, meeting a high-ranking government official, attending a special event, celebrating a notable accomplishment, and reaching certain milestones.
A big part of the tradition of challenge coins is in how they are presented. They are an informal award, and the way they are given out reflects it. The typical way to give someone a challenge coin is with a secret handshake. An officer or high-ranking official will palm the coin and secretly pass it to the recipient. However, you can also create custom challenge coins as a way to commemorate an event and build camaraderie. While challenge coins may be small tokens of appreciation, they play a significant role in military culture.
Challenge coins are typically round in shape, though they can be seen in almost any shape and size. Recently challenge coins have been used outside of the military. First responders use them to honor feats, while companies use them to hand out to their employees. They are events used for advertising and marketing purposes. However, they are more than just a way to honor remarkable achievements and milestones. Their role extends far behind that, as many who receive them have united with others who hold them. Veterans are proud of their coins and openly display their collections. Challenge coins can help maintain bonds between those who share unique experiences. Being honored with a challenge coin holds more weight than the coin itself.
Here at MilitaryCoinsUSA.com, we know challenge coins. It's what we do! We have over fifteen years of expertise designing and producing the highest-quality custom-made coins for the military and other agencies. You can expect top-quality designs made to represent your group, unit, or squadron. We can also create distinguished designs for fire, police, sheriff's departments, emergency medical services, and other public safety agencies. The best part is that we make it easier than ever to order. Simply fill out our free quote form or email us with your design. We'd be honored to work with you!