Our Custom Military Coins
Rick Cundiff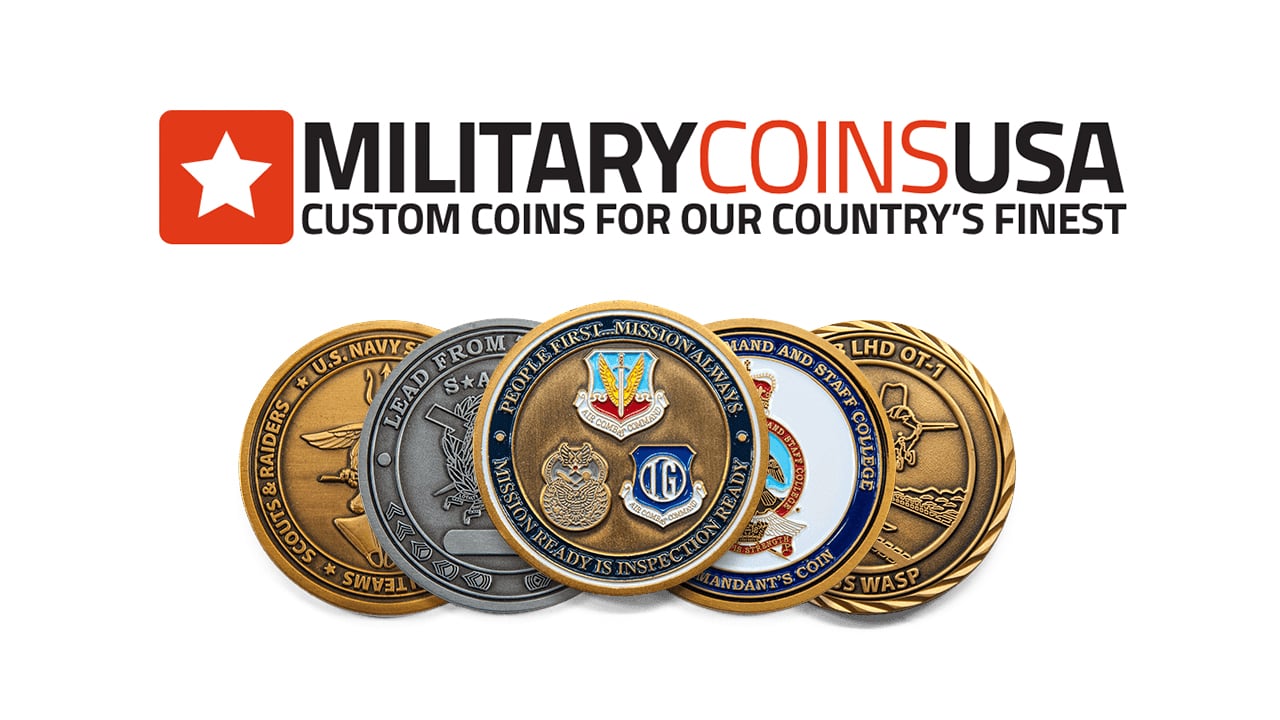 Custom military coins are a respected part of military life. They have long been a symbol of unit camaraderie, shared experiences and team cohesion. At Military Coins USA, our custom military coins honor the spirit and dedication of the men and women who serve in the U.S. Armed Forces.
If you're looking to order challenge coins, commemorative coins or any other style of custom military coins, we have the answers to all your coin questions. Our graphic artists can turn your unit insignia or custom design into great looking coins you can carry and display proudly.
We have veterans on our staff who have served with distinction. They know the shared sacrifice and dedication that military coins represent. That's why we are committed to producing only the finest quality custom coins you can buy. Every coin we produce must be worthy of those who will carry it.
To achieve that, we hire the most talented, creative graphic artists in the industry. We use only the highest quality materials and state of the art production processes to create your custom military coins. We hand-inspect every coin we make before we ship it to you. And we back everything we sell with our 100% Satisfaction Guarantee. When we say our coins are the best, we can prove it.
Customer service is another key point at Military Coins USA. We treat every customer the way we want to be treated ourselves. We respect your time, your ideas, and your budget. We do our best to give you the best sales experience you'll receive from any company, period.
We are dedicated to earning your business not just once, but for life. We welcome your feedback about our performance, and we're always happy to respond to any questions or concerns you might have about your custom military coins.
At Military Coins USA, we offer a full range of coin options, including your choice of gold, silver, brass, copper or black nickel metal colors in either antique or polished styles. Select a standard round coin or choose a custom shape. No matter if you want small or large coins, we have the equipment to produce exactly what you want. We even offer duotone metal, diamond-cut edges, cutouts and sequential numbering.
We can customize your coins any way you want. Turn them into medals or medallions with ribbon attachments. Create military coin keychains that recipients can use every day. We can even make your coin design into a bottle opener. The choice is up to you.
As noted earlier, our custom military coins come with our 100% Satisfaction Guarantee. Should you find any coin you buy from us defective in either materials or workmanship, just let us know. We will gladly replace it at no extra cost to you.
Our price policy is a simple one. We offer you truly "what you see is what you get" pricing. We'll never charge you any hidden extras or "gotcha" fees. The price we quote you is the price you'll pay.
We also refuse to be undersold by anyone. Find a better price on identical custom military coins and we'll match or beat it. It really is that simple.
The bottom line? We want to be your Number One source for custom military coins of all kinds. We offer the best combination of quality, price, and service you'll find anywhere. Depend on Military Coins USA for all your custom coin needs!