How are Challenge Coins Used Today
Rick Cundiff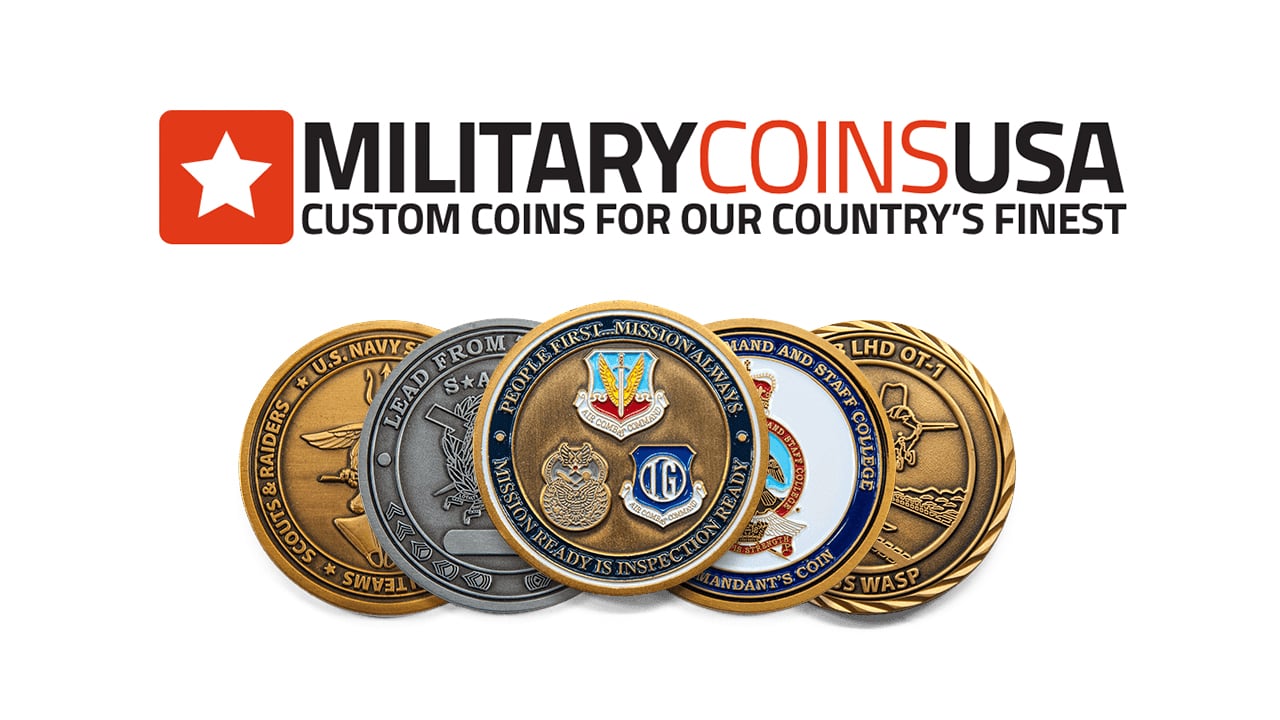 Originally American soldiers collected and traded military challenge coins as a token of respect. Today, these commemorative coins are one of the most prestigious awards you can receive for service and accomplishment. With origins going back to the Roman Empire, these coins are more than a collector's item.
What Is A Challenge Coin?
The actual military challenge coins are small medallions or coins emblazoned with an organization's emblem or insignia. Organization members carry these coins to enhance morale and prove organization membership.
Service members also collect military commemorative coins. Generally, unit commanders presented its members with coins in recognition of their achievements. The coins were also exchanged to mark visits to an organization. When challenged, recipients must produce the coin to prove membership and affiliation.
How These Coins Were Used Throughout History
There are several stories detailing the origins of this historical coin. The coin is acknowledged throughout history, from the Roman Empire to World War I and World War II.
The Roman Empire rewarded soldiers with coins as an award for their achievements. Throughout history, the custom coins were used as forms of status and identification.
Medals similar to these coins were also used to commemorate important events involving noble and prominent individuals during the Renaissance. Usually, the medals would depict familial origin, such as lineage or a seal, as well as the patron receiving the medal.
For identification, these local coins were historically used during a personal meeting to help verify a person's identity. There would be specific characteristics and identifiers for each coin such as the date and type of coin that each party would examine and verify.
Coins helped prevent spies from infiltrating meetings by serving as a reliable way of verifying identity when combined with other verification signals and methods.
How Were These Coins Used In The Government?
Government organizations have also used commemorative coins to commemorate holidays like Memorial Day and Veteran's Day.
The tradition of giving out commemorative coins increased during the Vietnam War, but became increasingly common during the Persian Gulf War.
In the Air Force, coins are presented to new personnel after completing basic training, and another coin is awarded to new officers after completion of Air Force Officer Training School.
The popularity of coins upon completion of military training and school has extended to Canadian Forces who give coins to officer cadets that graduate from the Royal Military College.
How Are Custom Coins Being Used Today?
The coin is widely used in all branches of military service, and even extends to organizations outside the military.
Customized Challenge coins are also featured regularly in television and movies, both in military narratives and non-military settings. The coins are consistently presented to recipients as a prestigious award, or as a form of highly esteemed recognition for accomplishments or service.
Today, challenge coins are given to members as a token for joining an organization or to acknowledge special achievements within the organization. These coins are also used to commemorate milestones such as graduations and other events.
Government Use Of Coins
Presidents in the last 30 years have been presented with custom challenge coins by the military as a token of respect. US Congress also produces these coins for members of Congress to give to constituents. Increasingly, police and fire departments across the country are using them as well.
Custom Coins For Organizations
Custom coins are being used across businesses worldwide to boost employee morale and encourage a sense of community and accomplishment for certain achievements.
Impress Customers And Show Them Respect
Businesses relationships thrive when both parties respect each other. What better way to show that appreciation than by presenting ideal customers with a specially formulated challenge coin? A distinctive design and high-quality challenge coin that conveys a powerful message have a profound impact on recipients.
Coins Used For Marketing And Advertising
Custom challenge coins are used to promote seminars and events. The coins are a creative way to create interest around the event and naturally raise awareness about the event. Companies can also give out the coins for specific attendees for a memorable event.
Challenge Coins Take Over The World Of Sports
These Coins display the holder's affiliation to prestigious organizations. and the tradition has now become part of NASCAR, the NFL, and the World Series Of Poker. Professional NASCAR drivers also give customized coins to fans and commemorate victories.
Race car driver Jeff Gordon gives coins to children stricken with cancer and life-threatening diseases. Professional sports teams such as the Boston Bruins have also used custom coins to commemorate the National Hockey League's 2011 Stanley Cup.
Customized Coins Are Used In The Film Industry
Crewmembers of the TV show Breaking Bad were given exclusive coins designed for each new season of the show.
TV shows such as NCIS featured scenes where the plot centered around these coins. Shows such as Criminal Minds featured the coins as key factors in the plot. Here, special agent uses a challenge coin is used to bond with a disturbed child and restore hope when he gives the child the coin for hope and inspiration. The special agent's desk also features several collection coins.
Film Director Jon Favreau had custom coins made to commemorate Iron Man 2 and distribute to United States Air Force personnel as a gesture of thanks for their cooperation while filming Iron Man 2 at Edwards Air Force Base.
Apart from the media, custom coins have also been awarded in science and technology. In the International Genetically Engineered Machine competition (iGEM), 'Grand Prize' winners were given a challenge coin.
Tokens Of Achievement And Respect
Today, these coins can be awarded for a variety of events, including tournaments and championships. Because military commemorative coins are considered the noblest awards because of their rich history and military ties, receiving a challenge coin is truly symbolic.