Challenge Coins and Their Importance to Veterans
Rick Cundiff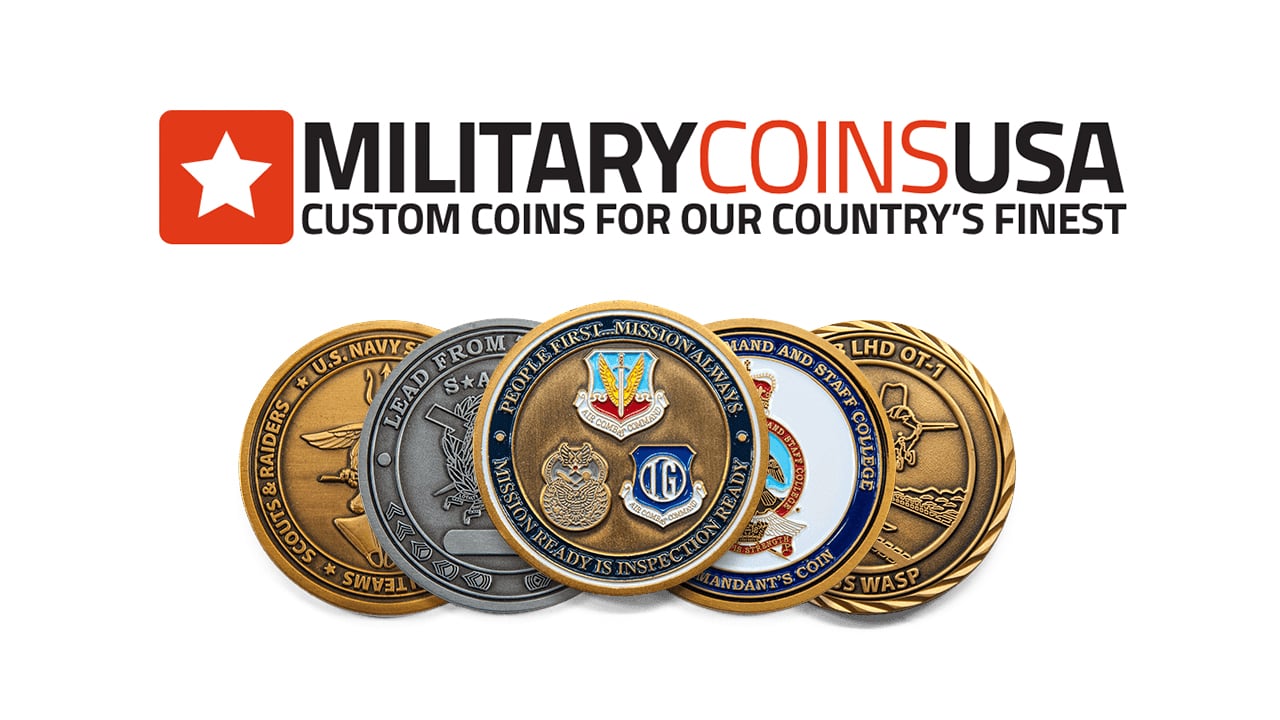 Custom challenge coins have been an integral part of U.S. military life for a century or so. The coins symbolize the bond between those who serve, in peace and in war, and among the members of a particular unit, squad or team.
Whether a soldier, sailor, airman, Coast Guardsman or Marine, challenge coins are a fact of life in the U.S. Armed Forces. While popular and meaningful among active-duty forces, they can hold even more meaning for veterans.
To understand the extra sentiment veterans often attach to challenge coins, we must first consider how challenge coins came about, and how they became an iconic token in the first place.
Origins of Challenge Coins
It's worth noting that there are multiple legends of challenge coins' origin, and even the U.S. Department of Defense website doesn't say which one is true. The most common story dates back to World War I. The legend has it that a wealthy lieutenant in the Army Air Corps had bronze coins made for the members of his squad. One member of the squad was later shot down over enemy territory and captured by the Germans.
The intrepid airman was able to escape, in civilian clothing. He made his way to a French unit, but was met with skepticism because he didn't speak French. Because the French had suffered enemy saboteurs in civilian clothes before, they prepared to execute the American. Stripped of his I.D. by the Germans when he was captured, he had no way to prove who he was. But because he wore the coin his lieutenant had given him in a pouch around his neck, he was able to show it to the French soldiers, who, rather than execute him, returned him safely to American forces.
From that apocryphal beginning, challenge coins grew to become popular among both enlisted service members and higher-ups. They became a way that leaders could honor men and women who performed admirably. They also served as a way that members of a specific unit, squad, deployment, ship or battle could commemorate their shared experiences.
Today, challenge coins are presented to servicemen and servicewomen for many reasons. Air Force recruits are given their Airman coin when they complete basic training, for example. Each presentation of a challenge coin carries meaning for the recipient, whether it's achievement of a goal or to honor performance above and beyond the call of duty. Challenge coins are treasured for that reason.
Veterans' Coins Are Sometimes a Lifeline
Veterans cherish challenge coins they received during their service as mementos of a specific time in their lives, with specific comrades, in specific situations. They may remind vets of lifelong friends, and of friends lost to battle.
For some, custom challenge coins can mean even more. They can be a lifeline, a reminder that someone cares. With many combat veterans suffering from post-traumatic stress disorder (PTSD), the nonprofit Center for Suicide Awareness created a special challenge coin in 2015.
The coin encourages veterans to talk about their problems, and is imprinted with the number for a 24/7 support text "Hopeline." The goal is to remind struggling veterans that they are not alone, and that help is available. According to the Center's website, there are now more than 20,000 of the Veteran Challenge Coins circulating.
There's no doubt that whether as a treasured keepsake or vital lifeline, custom challenge coins will always hold special value for our honored American veterans.
For more information about the Center for Suicide Awareness, see their website at http://www.centerforsuicideawareness.org.
The National Suicide Prevention Lifeline is available 24 hours a day, 7 days a week, at 1-800-273-8255.