Boost Morale With Custom Challenge Coins
Jesse Daugherty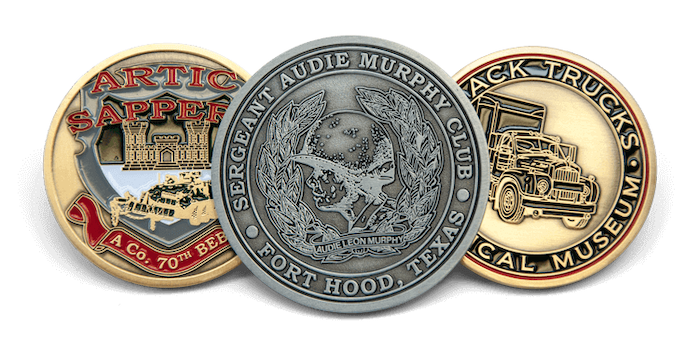 Challenge coins are used for an array of reasons. While they originated as a part of military tradition, challenge coins have extended far beyond their original intentions. These days they are used for everything from promoting and marketing to recognizing employees and so much more. Challenge coins are also being used as a way to boost morale. We could all use something inspirational these days, and a challenge coin is an ideal way to boost spirits. They are even be used to build camaraderie, which is essential right now amongst first responders, hospital workers, and men and women performing other vital roles.
Challenge coins can raise assurance in several ways, such as recognizing hard work and notable accomplishments. They are also an excellent way to cultivate great teamwork by reminding everyone they are all on the same team. Honoring and acknowledging people is a fantastic way to show appreciation. This will also make them feel valued for their loyalty and dedication. Custom coins are created for various reasons, such as honoring special community members or even events and places. No matter what the coin celebrates and memorializes, they are an excellent way to raise confidence and support.
Challenge coins can bring happiness to challenging situations. From natural disasters to pandemics and other events, challenge coins are a tried and true way to let people know that they are valued. Coins may be designed to say or show precisely what you want, which means you are able to honor those people, places, and moments in a unique way. Add images and text for added depth and meaning, or even include dates and special features that add appeal. These individual elements will make the coin a memorable keepsake that will be cherished and displayed with pride. Coins often become something that people may pass down through the generations and draw inspiration from in the future.
Custom coins can even be produced with a light-hearted approach. While many coins have a serious approach, adding fun and humorous elements is a brilliant way to get attention and change things up. As we mentioned earlier, coins are created to say and show exactly what you want. Feel free to get creative and design something personal and fun. Include inside jokes and references that are hard to understand. This, too, is a remarkable way to boost morale among the team, no matter what sort of business you are in. Coins are great for team building and can also be used to raise brand awareness. Be creative and be bold!
Here at MilitaryCoinsUSA.com, we know custom challenge coins. We have over fifteen years of experience, and we have designed coins of all types. We know what it takes to create high-quality challenge coins from unique shapes, large coins, small coins, and everything in between. We are a one-stop-shop for everything from corporate coins, fire department coins, police coins, and yes, of course, military challenge coins. No matter what type of coins you want, we will help bring it to life. Get a free quote or email us. We'd be honored to work with you!